Office Cleaning Services
At CCS we understand that your offi ce space should always be clean and presentable.
This is an expectation that we can consistently fulfil. We have been working for customers in office cleaning for many years across several European countries. CCS appreciate that no two businesses are the same and we will liaise with you to design a unique cleaning schedule for your business. While our cleaning plans are all bespoke, one thing that remains constant is our discretion, customer focus and unwavering professionalism.
We don't compromise on security. Our hiring practices ensure that all of our people are properly trained and have all the necessary documentation. This gives our customers the peace of mind they deserve.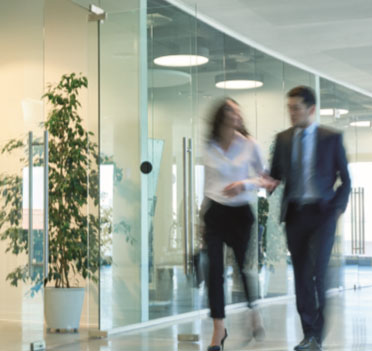 The Four Cornerstones
Our single goal is to meet your exact office cleaning requirements.
We deliver these results shaped around your business needs. At CCS we conduct monthly audits to ensure that we are delivering the highest standards of cleanliness and compliance. These audits hold us accountable for our work and motivate us to deliver the best results possible.
DISCRETION

Your office is a place where vital and confidential work is conducted on a daily basis. At CCS our teams recognise this and make their presence as unobtrusive as possible. This applies to the respect we show your office right down to the nearly silent vacuums and unscented cleaning products we use.

FLEXIBILITY

CCS will listen to you and work around your business needs. This means that we can work during or outside of business hours and at a frequency you deem suitable for your business. If you feel a certain product or piece of equipment is not working for your office, we will adapt and find an alternative solution.

CUSTOMER FOCUSED

CCS want all of our customers to feel valued and listened to. Our teams have each taken part in our cleaning training and customer service training programs. Our people are engaged and approachable. We strive to deliver consistent cleaning results and superior customer service.

MANAGING BUDGETS

Getting value for money is important for all of our customers. CCS deliver a high quality and professional service at a competitive price. We do this by maximising the cleaning productivity levels. This common-sense approach to cleaning will ensure that your high traffic and client facing areas will always be consistently clean. Our in-house auditing system will verify that we are fulfilling your scope of works.